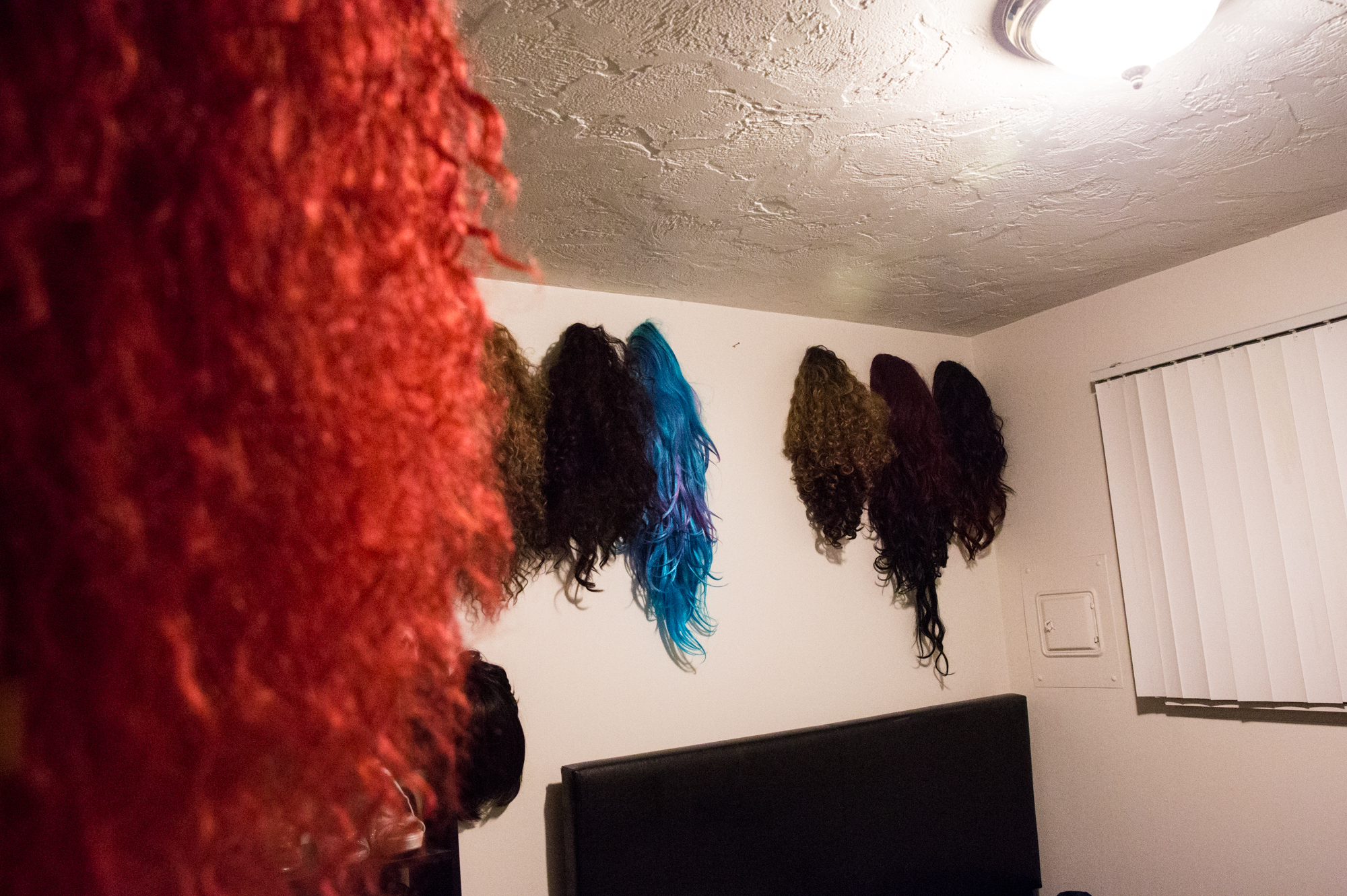 Nicky Serene's many wigs are displayed on the walls of Mark Harbaugh's drag room. Mark's choice of wig for the Glamazons show depends on the song choice, outfit and mood of the evening.
Mark's full transformation into Nicky Serene can take up to two hours, so he starts early on Friday nights to make it to downtown Eugene in time for the Glamazons show.
Mark's friend Jayson keeps Mark pressed for time as he applies self-tanner. Nicky doesn't always apply fake tan, but heroutfit for the nights performance, involved a leg-baring leotard.
Mark's one-eyed cat Sephora stops to inspect Nicky Serene's drag accessories, including hairspray, a makeup bag, a bra and padding. Mark's drag attire is usually scattered throughout the house as he transforms into Nicky Serene.
Nicky Serene zips up her second choice of boot before the Glamazons show. Mark lives in a two bedroom apartment by himself, and has an entire room dedicated to drag. His entire house is spotless, exept for the drag room, which is always overflowing with rhinestones, wigs, and shoes.
Nicky Serene performs at The Wayward Lamb, Eugene, Oregon's only gay/queer bar. Nicky and her drag troupe "The Glamazons" performed there every Friday until the bar's abrupt closure in February of 2018.
Nicky Serene hosts "Glamateur Hour" on Jan. 14. Glamateur Hour was an all ages drag show at The Wayward Lamb where queens of all ages and experience levels were welcome to perform in front of a crowd. The event was meant to be family friendly, as drag can often feature explicit songs and adult jokes. After the show, Nicky passed the mic around to each queen, allowing them to tell the crowd what drag means to them personally.
Mark removes his makeup after a show. He often removes his makeup at the venue so he can go straight to have dinner or drinks with friends.
Mark multitasks homework and television on a Thursday evening at home. Mark juggles college and a full time job, and spends most evenings during the week relaxing and studying. Since the Wayward Lamb's abrupt closing and temporary displacement of The Glamazons, Mark had more time to focus on school.
Nicky sips her drink in between takes for her friend and fellow drag queen Slutashia's YouTube interview. During the video, Slutashia asked Nicky about her start in drag, to share embarrassing stories, and even quizzed her on trivia regarding the artist that inspired her first name: former Pussycat Doll Nicole Scherzinger.
Friends Jayson and Austin peek into Nicky's drag room while she chooses a wig. Nicky often has several friends over for drinks and outfit advice while she gets ready to perform.
Nicky's friend Ben records her during a Glamazons show at the University of Oregon. Nicky always has a friend present at her shows to record every performance.
Nicky Serene and the other four Glamazons, Diva, Karess, Monique and Daphne, open their comeback show at the University of Oregon. The group took a three week break from performing after the sudden closure of their resident venue The Wayward Lamb.
Nicky performs for a full house at the University of Oregon. When Nicky first chose the name Nicky Serene, full name Nicole Serenity, she had the intention of utilizing "Serene" to create a timid and elegant persona. Over time, she developed the fiery and energetic presence she uses today in combination with upbeat pop songs and acrobatics.
Mark changes back into his regular clothes after a Glamazons performance. The getting "unready" process takes about fifteen minutes, where getting ready can take up to two hours. Mark explained how he finds it funny that when he performs as Nicky the crowd gives him undivided attention, but when walks back into the venue as himself no one turns a head.
After the Glamazons show, Mark dresses in his "boy clothes" while his friend Ben packs up Nicky's suitcase. The two were headed out to celebrate National Tequila Day before heading out for a long weekend in San Francisco the next morning.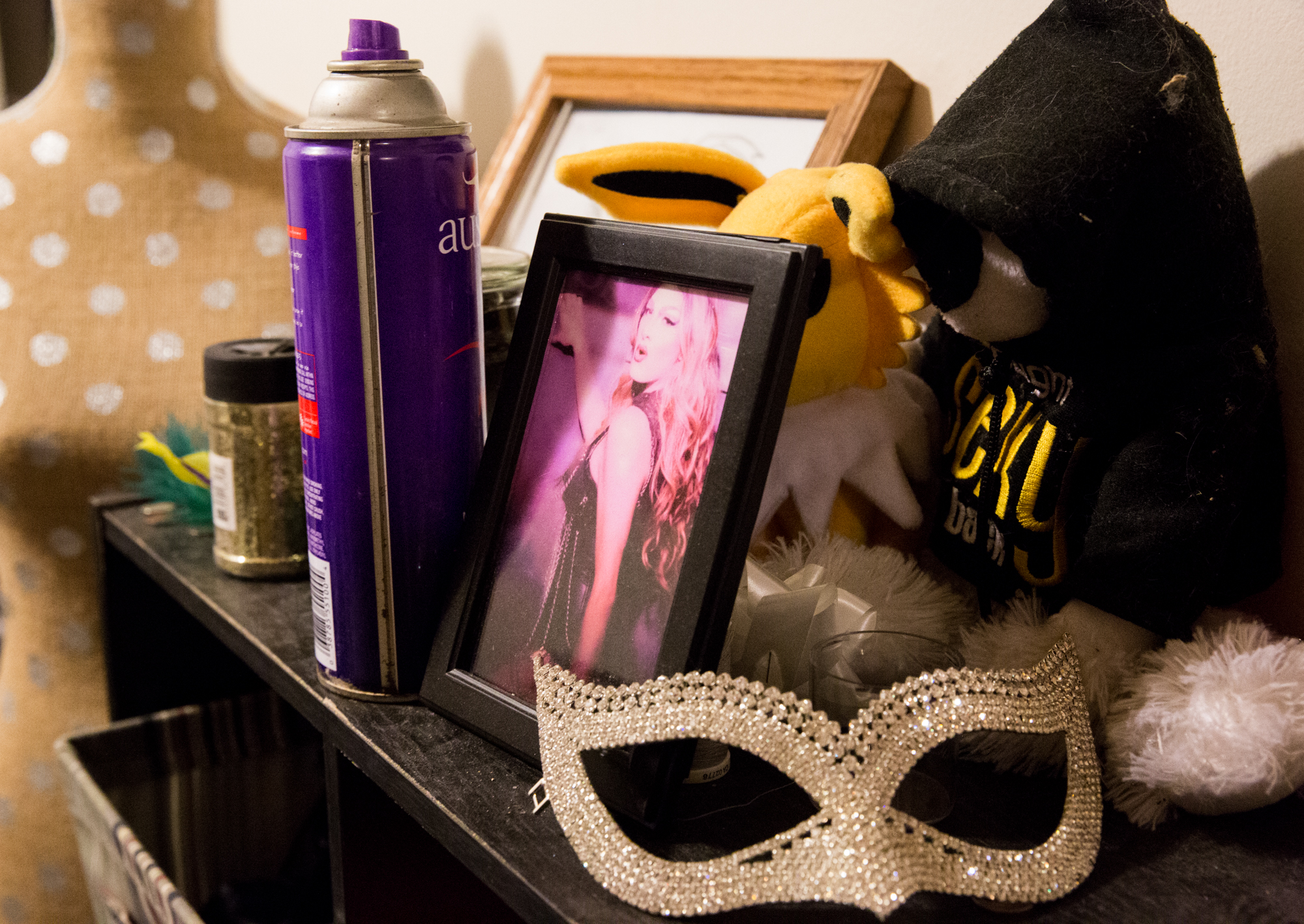 The dresser in Mark's drag room holds sentimental trinkets and mementos from past shows. The drag room is cluttered with things that Mark has collected throughout his five years of being a drag performer.